In Indonesia, 8.4 million children are stunted (excessively small for their age) and suffer from chronic malnutrition It is the underlying factor that contributes to almost half of the deaths of children under five.
Malnutrition can lead to a weakened immune system, which means children are more vulnerable to disease. These diseases can exacerbate malnutrition, creating a vicious cycle of malnutrition and disease. Stunting can reduce a person's productivity and increase risks of non-communicable diseases such as diabetes and heart disease. This is the double burden of malnutrition
Fair Future and Kawan Baik, as part of their medical activities in the regions of the far east of the country, are very actively occupied and concerned about the situation of people, especially children and other so-called vulnerable people, in terms of access. to healthy food, but also to clean water. Without water, it is difficult if not impossible to cook and eat healthily.
It goes without saying that access to healthy food, without being specific, remains one of the major challenges in reducing infant mortality, particularly in regions affected by water scarcity, or seriously affected by it. Or as is common here, by the invasions of clouds of pests, capable of destroying a cornfield, in less than 15 minutes.
Quick facts about malnutrition
In some very rural areas, Fair Future is carrying out projects to prevent malnutrition by creating community gardens, drilling wells to access to clean water. Program implicitly linked to access to an healthier life, more balanced life too. The use of local resources will be used to prevent children and other so-called "vulnerable" people from falling ill. In our daily medical activities, Fair Future sets up outpatient clinics and anticipates the annual seasons of shortages, such as the rainy season or the one where pests are very present.
Our social and medical teams also adopt a preventive approach by distributing a nutritional supplement to people at risk (such as food supplements, vitamins, powdered milk when the mother cannot breastfeed for example), by ensuring the implementation of other diseases prevention initiatives, such as COVID-19, Tuberculosis, Dengue fever, and Malaria.
Go there, to their homes where no one ever goes
Without saying that "the majority of children could be cared for at home by their families", it is an established fact that Fair Future seeks above all. Or idealise! Take care of yourself in your village, in your house.
This brings us directly to talking about medical centres here. Where we are active, care in a medical center is non-existent, too expensive, or simply closed for lack of personnel or medical equipment, drugs. Sometimes a medical center does not or no longer have access to water, or the people working there are no longer paid by the region or state.
The problem that Fair Future faces very often is that certain regions and villages are sometimes impossible to access, hence the creation of the "Truck of Life" program, which allows us to go wherever nobody goes.
Providing care in the villages is therefore essential. This strategy can result in cure rates of over 90% and reduce referral to non-existent hospital care.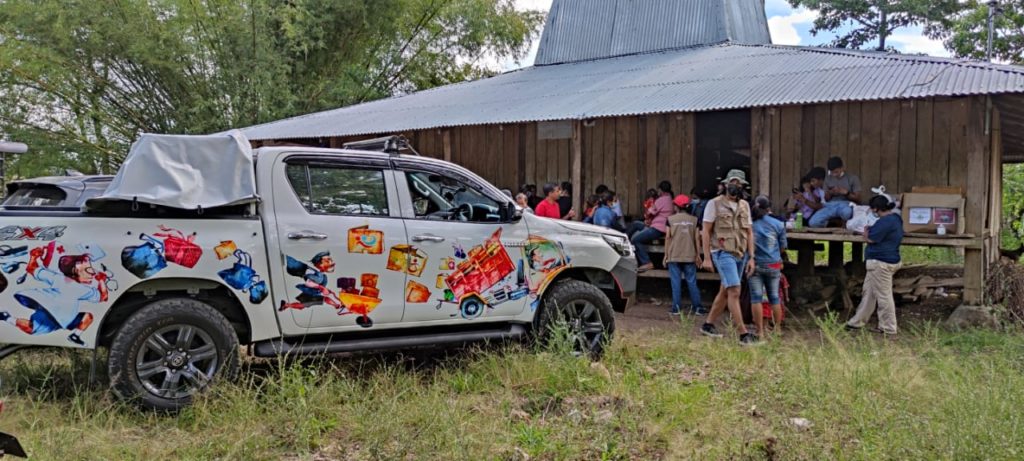 What are the effects of malnutrition during pregnancy?
Maternal malnutrition increases the risk of poor pregnancy outcomes including obstructed labour, premature or low-birth-weight babies, and postpartum hemorrhage. Severe anemia during pregnancy is linked to increased mortality at labour. Low birth weight is a significant contributor to infant mortality.
What are the impacts of malnutrition?
People who are poor are more likely to be affected by different forms of malnutrition. Also, malnutrition increases health care costs, reduces productivity, and slows economic growth, which can perpetuate a cycle of poverty and ill-health
What do we do? A local recipe to fight against malnutrition
Most of the families in the outermost regions in which Fair Future is involved produce their own food. But the lack of knowledge of good culinary practices, the weight of tradition, the multiple displacements of the population associated with the low purchasing power of households mean that the family's diet is little or not diversified: White rice, chilis, salts; that's all. Adults, the elderly, pregnant women, and young children are subjected to the same diet, often monotonous and poor, resulting in malnutrition in children and disease in others. This poor diet also decreases the ability of parents to fight against childhood illnesses.
The key to eating healthier and staying healthy is having water: For gardening, growing vegetables and cooking them.
Fair Future thinks and acts globally but by imagining and implementing local actions, with existing resources. This by increasing the knowledge of people living in these regions in which, more than 8 months a year, it is difficult to find something to eat.
We drill wells, create gardens using local seeds, how to treat your garden in a healthy way, without pesticides for example. Improving the quantities harvested also makes it possible to eat healthily, but to sell part of the harvest at the local market. Thus it will increase income for families, allowing other crops and harvests and market sales; while improving their living and health conditions.