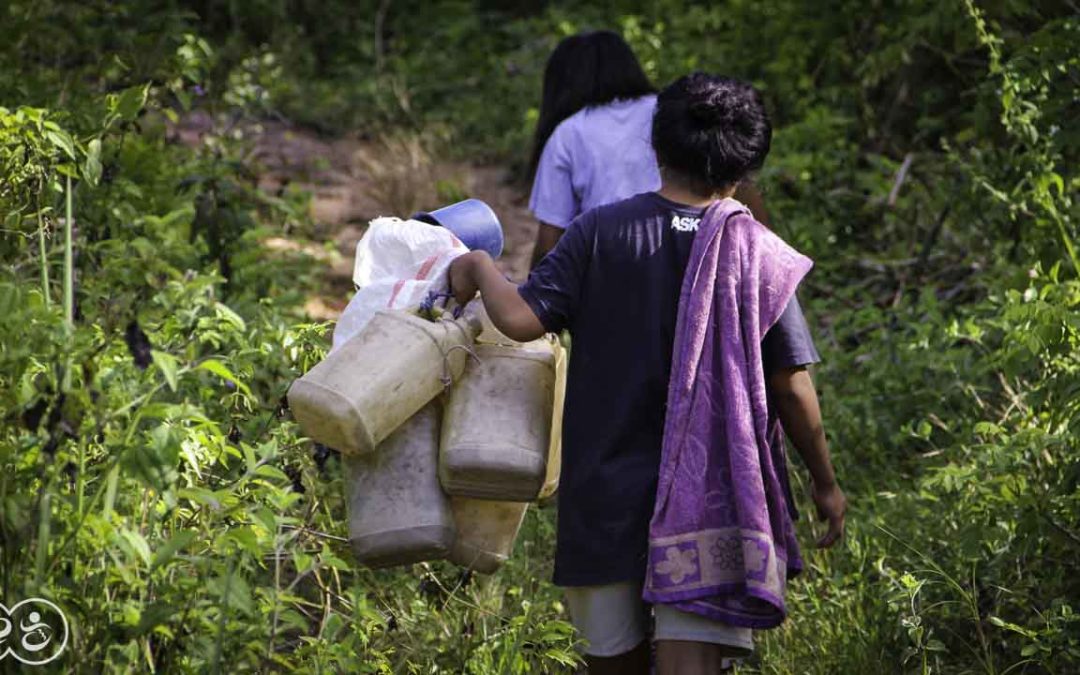 What this image is about Kawan?
In this news "Picture of the Day", under the terrible heat of East Sumba, a mother, and her daughter trudge forward, carrying five empty jerry cans. Their feet tread on arid ground, strewn with stones and brush. The day started a few hours ago and the journey is far from over. They have traveled more than five kilometers on foot and have as much ahead of them to reach their destination: Kullups, holes dug by hand in the rock of a hill. (Ref. Read this article here)
In this part of the world, kullups are more than mere rainwater reservoirs; they represent a vestige of human ingenuity against near-chronic water scarcity. Rainwater, channeled by soil and rock, seeps in to feed these small stone basins at the foot of a hill. It's a source of life, but also a source of heart-wrenching dilemmas. For every precious drop, there is a hidden cost, measured not in money but in lost opportunities, compromised health, and uncertain futures.
Consider the mother. Each trip for water represents hours when she can't work, maintain her home, or care for her family. What about her daughter? With every step she takes toward the kullup, she moves further from an education that could unlock doors to a better future. The thirst for learning is there, but it is weighed against a more immediate, more vital thirst.
Against this backdrop, the teams from Fair Future and Kawan Baik step in, armed with the will to make a difference and the tools and expertise needed to do so. The #WaterConnections program doesn't merely supply water; it aims to redefine these communities' relationship with this essential resource. By installing water collection and filtration systems, educating on hygiene best practices, and encouraging community participation, Fair Future and Kawan Baik aim to break the vicious cycle of poverty and disease.
Waterborne diseases like Malaria, Dengue, diarrhea, and cholera are commonplace in these areas. But their impact doesn't stop at the individual. A sick mother cannot provide for her family. A sick daughter cannot attend school. And a cycle of suffering and poverty perpetuates, generation after generation.
The work of Fair Future and Kawan Baik isn't completed in a day or even a year. It's a long-term commitment, an investment in the future of these communities. But every installed water system, every educational session, and every assisted family represents a step toward a future where this mother and daughter won't have to choose between the present and the future, between thirst and the thirst for learning.
In a world where clean water is often taken for granted, it's easy to forget that for some, it's a luxury that comes at a high price. By working on the ground alongside those who live this reality every day, Fair Future and Kawan Baik remind us that behind every drop of water, there's a human story, a struggle, and an opportunity for change.
Alex Wettstein – Fair Future Foundation medico-social camp in East Sumba – Rumah Kambera, Lambanapu, 17th of October, 2023.
Thank you for your interest and support, we love you.