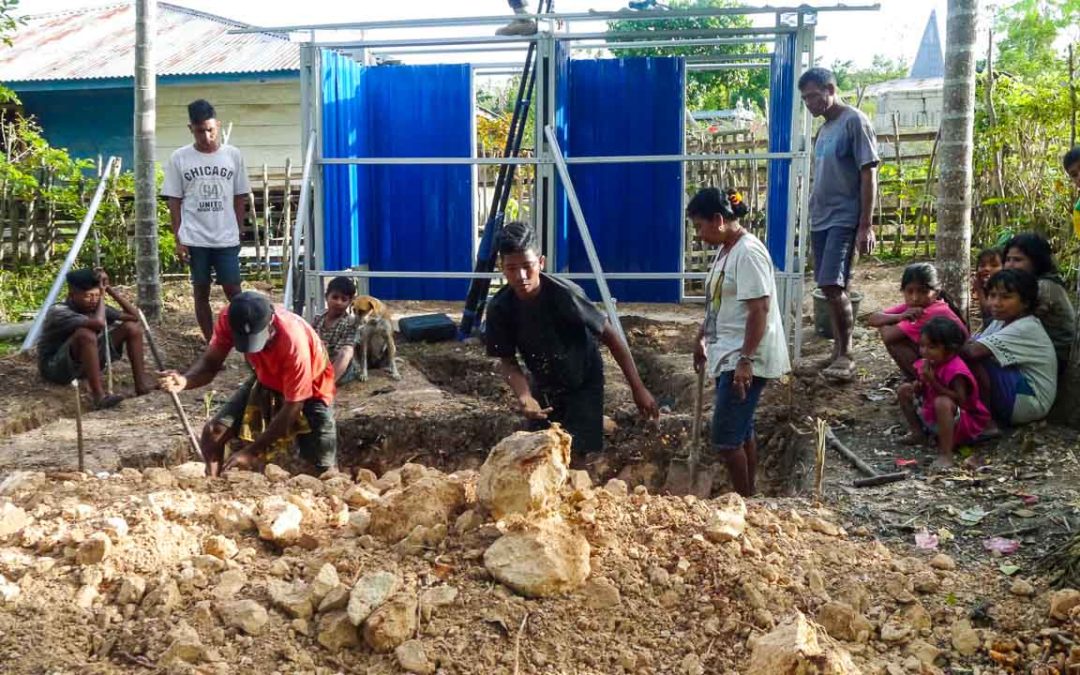 ​What this image is about Kawan?
The image illustrates our ongoing project: the excavation of a septic tank. This is the very first step towards the installation of the first-ever sanitation infrastructure in the village's history. Our goal is to reinforce the health and well-being of the families in this community. In closely associating ourselves with the villagers, a core principle in our approach, we work hand in hand to provide them vital access to water and sanitation facilities, despite their isolation in the eastern part of Sumba.
For several months now, our organizations – Fair Future and Kawan Baik – have favored constructing lightweight steel facilities. This decision is based on hygiene, maintenance, and construction efficiency grounds. The entire structure (in this case, two toilet-shower stalls) is constructed at the Fair Future Foundation's base camp in Waingapu, called Rumah Kambera. We then transport the dismantled structure to the site of installation. It takes about a week for our team to operationalize an installation like this, followed by one to two weeks dedicated to finishing and aesthetic touch-ups.
In this underprivileged environment, families lack access to basic services and needs such as access to water or electricity are non-existent. During the dry season, when rainwater tanks are almost empty, they must travel miles to collect just a few liters of often unsuitable water.
In the village of Laindatang, inhabitants have never had the privilege of a working shower or toilet. The enthusiasm and joy are palpable as they witness the construction of these new facilities, bringing them a simple feeling of happiness.
This installation will also contribute to reducing infectious diseases caused by the absence of adequate sanitation facilities in the village. This will likely lead to an increase in the quality of life for the villagers, a reduction in the time spent gathering water, and promote overall community health and well-being. This initiative is more than just building sanitation facilities. It symbolizes the start of a new chapter for Laindatang, signifying change and development towards a healthier community.
Thus, the work of Fair Future and Kawan Baik extends beyond physical construction, promoting progress, health, and hope for the future.
Thank you for your interest and support, we love you.