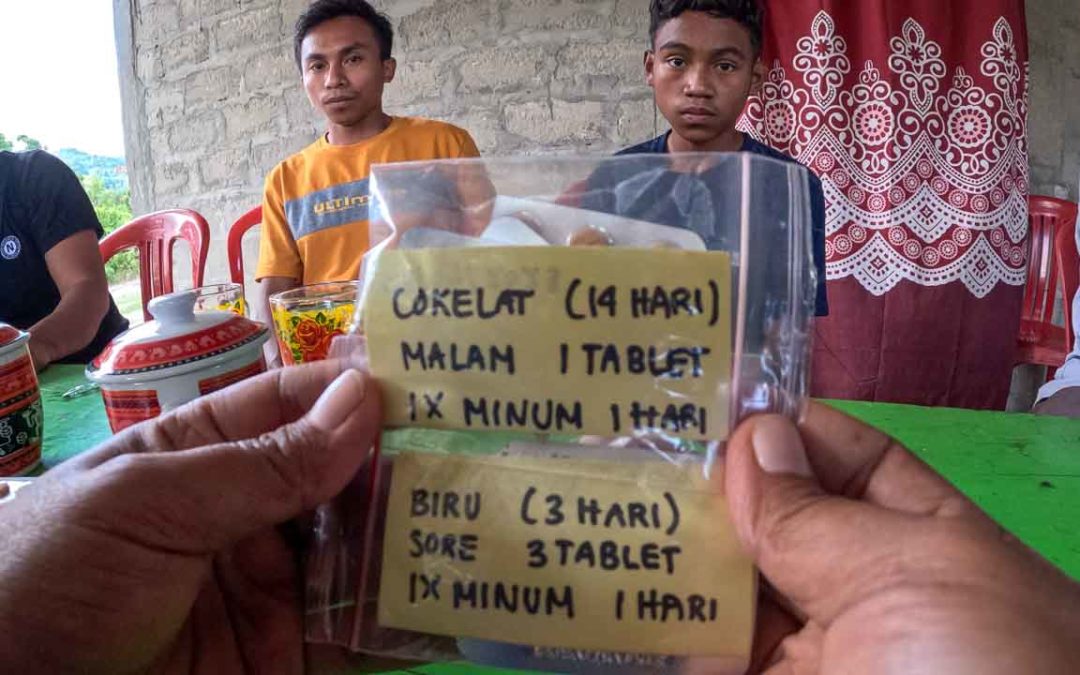 ​What is this image about Kawan?
This new "picture of the day", shows a 14-year-old young kid suffering from malaria for the second time, whom we have tested twice and is receiving his medical treatment. We explained that he must take these medications every day for fourteen days. We explain why and the risks if he doesn't. A nurse is present and will ensure regular check-ups to ensure everything is going well for him.
The fight against malaria in Sumba is an intense and crucial battle for the population's health. Every positive case, like that of this young man from Lulundilu, Kecermatan Mahu, East Sumba, requires immediate medical intervention and rigorous treatment that extends over a period of 14 days without interruption.
This young man belongs to a large family of seven siblings, all affected by malaria before. Although he is fortunate not to have lost any close family members to this disease, it is essential to understand that malaria is wreaking havoc in this region. Our team visited his home and conducted two tests to confirm his infection, first with a rapid test and then with blood tests and microscopic analysis. Both times, the results were positive, indicating that he was carrying the Plasmodium falciparum parasite.
As with all malaria cases, Fair Future takes over the medical treatment. It is crucial that this young man diligently follows his treatment because the risks to his life are extremely high if he does not. That's why we have mobilized staff from the nearest healthcare center, Puskesmas Mahu, to ensure that he receives his medical treatment appropriately and monitor his progress.
It is important to emphasize that since the beginning of 2023, in Sumba alone, 18 pregnant women have lost their lives due to malaria due to a lack of screening, information, proper medical care, and appropriate treatment. This tragedy highlights the need to strengthen our fight against malaria and ensure equitable access to medical care for all community members.
The Fair Future team remains determined to do everything possible to end this threat to public health and ensure that every individual has access to the necessary medical care to combat malaria and other serious illnesses. Your support and donations are essential for this mission's success and saving lives.
Thank you very much for your support.
Alex Wettstein – Fair Future Foundation medico-social camp in East Sumba – Rumah Kambera, Lambanapu,
September 21st, 2023.
Thank you for your interest and support, we love you.