Help Transform Lives: Your Donation Provides Critical Ultrasound Access in Rural Indonesia
Stand with Fair Future Foundation: Empower Women and Save Lives through Essential Medical Support in Ultra-Rural Communities
In the isolated regions of Indonesia, access to essential medical care is not a given—it's a battle. With your support for portable ultrasound scanners, we are not just providing medical equipment; we are providing hope, safety, and a promise for a healthier future. Join us, and be a part of this life-saving mission
Dear friends and partners,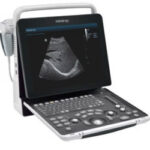 In the unceasing pursuit of our mission to support the most disadvantaged populations of Eastern Indonesia, today, we seek your support for a crucial cause: the acquisition of a vital medical device, a portable ultrasound scanner. It is a compact, black-and-white device, endorsed for its effectiveness by our field medical teams. This instrument is necessary for our medical programs in ultra-rural regions, where needs are glaring and resources are tragically scarce.
What is a portable ultrasound scanner?
A portable ultrasound scanner is an indispensable medical tool, allowing for the performance of ultrasound scans, an essential procedure for pregnancy monitoring, and various other medical examinations. In conditions where access to electricity is limited or non-existent, this device, capable of being powered by solar generators, becomes an invaluable resource. It will be fully dedicated to our Medical Truck #TruckOfLife, which is equipped to operate autonomously under these demanding conditions.
Why is it so crucial?
In the ultra-rural regions we serve, undergoing an ultrasound to check a pregnancy is an arduous task. Equipment is scarce, electricity is often absent, and specific knowledge is limited. The risks associated with this lack of monitoring are recurrent, and we witness them frequently. Pregnancy-related complications can be fatal, and too often, we witness the loss of lives that could have been prevented. The ability to perform ultrasounds on-site represents much more than a medical advancement; it is a lifeline, a chance at survival for these women and their unborn children.
How can you help?
To make this vital project a reality, we appeal to your generosity and your commitment to stand with us. The cost of this device is CHF 4'366. It is an investment in life, a direct commitment in the fight for the survival and well-being of the most vulnerable populations. Every contribution counts, and every gesture towards this cause is a step closer to a better future, where pregnant women in the most isolated regions have access to the care they need.
To help us, click here and select "Donate for A portable ultrasound device". We count on your support. Together, let's make a difference.
Alex Wettstein – Fair Future Foundation medico-social camp in East Sumba – Rumah Kambera, Lambanapu, 2nd of November, 2023