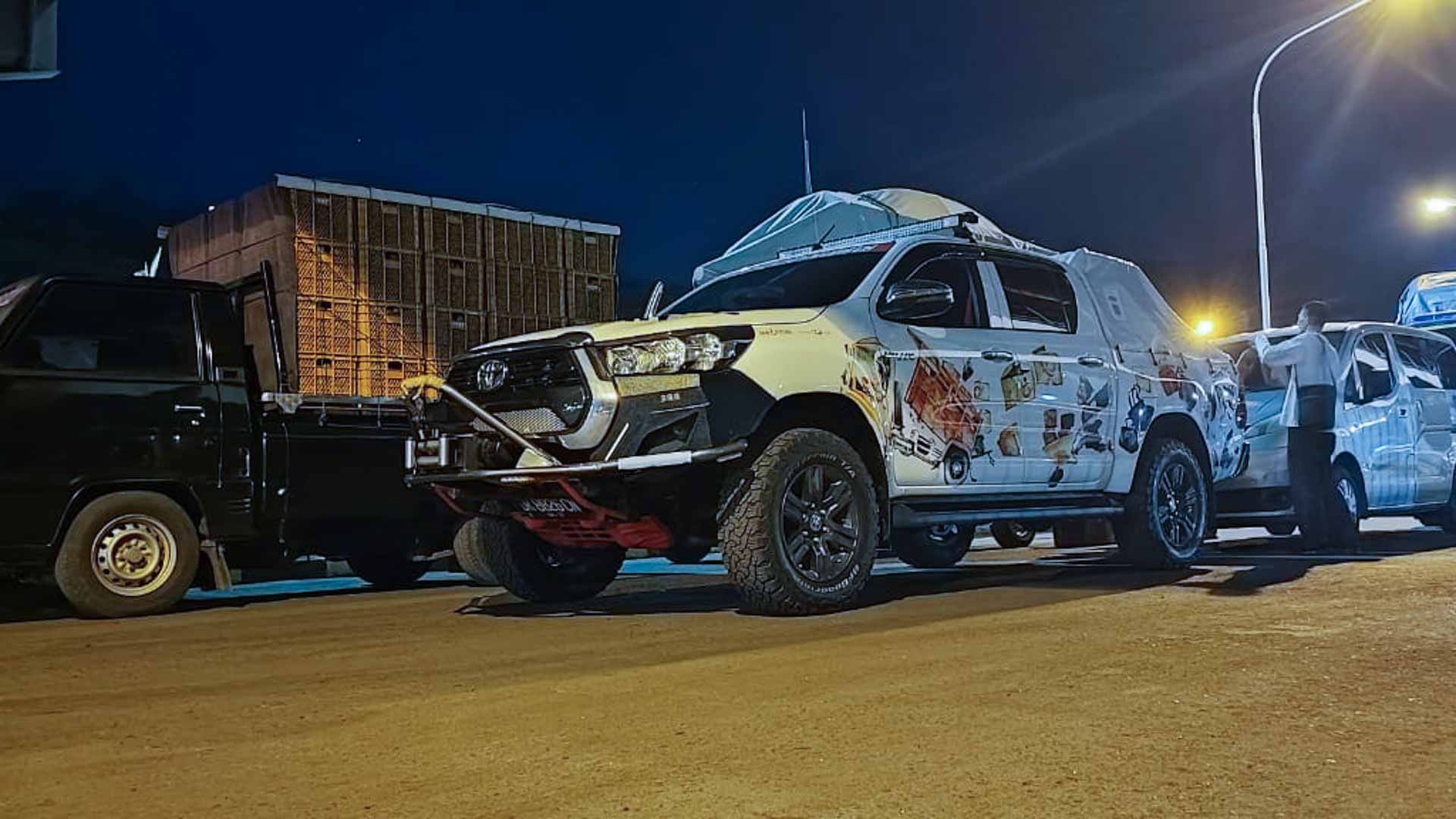 Thursday night at 9.45 the journey starts from Denpasar, Bali and crosses from the port of Padang Bai to Lembar. The ship docks on Friday at 6 am and continues its journey to Kayangan port.
During the trip, we did not use the car's AC and the weather was very hot between 35-38°C so we stopped several times to rest. On the way to Kayangan, the team stopped to enjoy seasonal local fruits being sold on the side of the road.
Arrive at Kayangan Harbor at 11.45, buy a crossing ticket and arrive at around 14.00 at Pototano port. After traveling for about 30 minutes, we stopped at Kawan's Basecamp which is in Alas Barat Sumbawa.
At first they weren't ready to welcome us because they were doing deep cleaning in the area. But after seeing us, Ms. Nana and her friends who were at the Eco Lodge Anak Alam Learning House opened the door and warmly welcomed us.
Ms. Nana is a former ITB lecturer and environmental activist who is active in various educational activities. That afternoon, he himself, who is the founder of the Anak Alam Learning House in Sumbawa, took us around the permaculture garden and also the laboratory (eco Lodge rooms, pantry, and eco toilets).
That afternoon Ms. Nana with Friend Sukma, Edit and Antok offered us healthy snacks and also a place to rest.
In the evening we were served spaghetti pesto, spinach and salad, all of which were picked from our own garden and continued by telling stories about each other's activities. Mbak Nana with friends at the natural learning house and also good friends with the Fair Future Foundation on a mission trip to the East, what will we do in East Sumba, until late at night. Friends at Eco Lodge are very enthusiastic to hear stories from our friends in the East
No less interesting, Ms. Nana's activities with friends here also really inspired us. Because with what they do in Sumbawa through their movement they pay attention to the environment around them. Ms. Nana began to "influence" young people in Sumbawa to be sensitive to environmental problems that surround them.
The next morning they prepared breakfast and provisions for us on the trip and also gave some homemade Christmas gifts from Kawan Kawan in the learning house for Kawan Kawan in Sumba.
In the future, we want to continue to stay in touch, open each other's doors to collaborate with each other, continue to inspire and also want to make an impact on communities in eastern Indonesia.