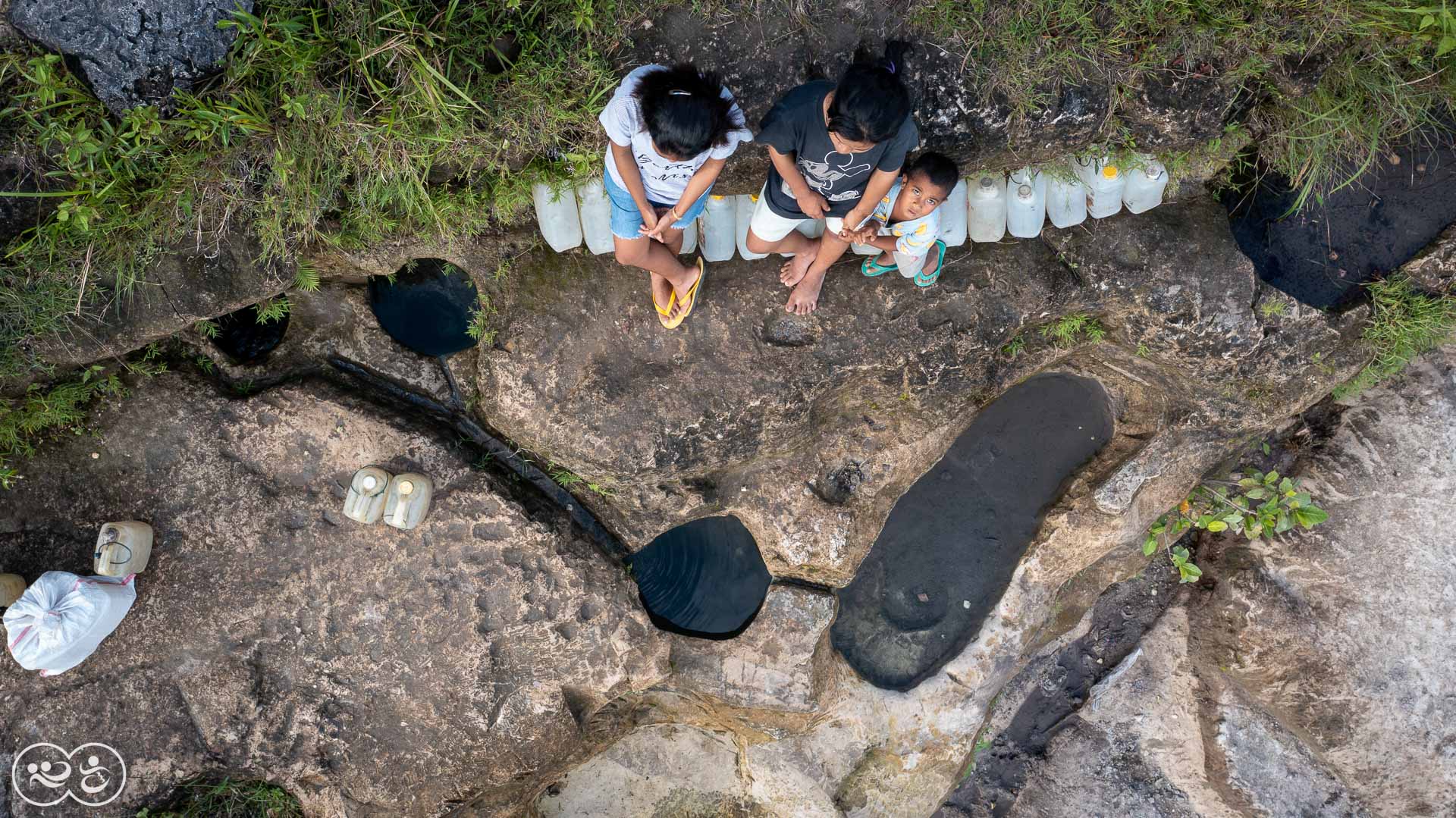 What this image is about Kawan?
This new "Picture of the Day" shows you kids from the village of Laidatang, who fetch water far from home in the "Kullup" of the village. Elthon, responsible for documentation (with the black t-shirt), and Alex, from the medical staff, are also present in this photo. With the kids and one or two adults accompanying us, we walk more than an hour to reach this place in the middle of a high hill. You must descend a steep path to access these hand-dug holes in the rock. In 30 minutes, we will have to go up the hill and walk back. But this time, loaded with several jerrycans filled to the brim.
The Fair Future and Kawan Baik teams spend two days with the families of the ultra-rural and isolated village of Laindatang to get to know them even better. In this village, we have the project to create a #WaterConnections project. I let you read here the articles related to this project and here to see what your want to do to save their lives,
In Laindatang, families only have access to rainwater. It's for everything: eating, drinking, cooking, bathing, washing clothes, drinking water, caring for children, sick people or watering animals. Therefore, one of the ways for women and young girls to have water at home to live on is to walk several kilometres to find the "Kullup".
Kullup, what is it? These are small stone basins, directly dug into the rock by the villagers, used to collect and store rainwater in rural areas. When it rains, the water seeps into the ground at the top of the hill and then is filtered through the earth and the basements. It flows drop by drop in these stone basins, the "Kullup". Then the villagers come to fill their jerrycans with five or ten litres.
The "Kullup" are an essential water source for the local communities. But the quality of stored water can be affected by bacterial contamination, chemicals, animal waste or debris. Therefore, regularly cleaning these small holes in the rock is essential to maintain water quality. It is important to note that the "Kullup" is only a temporary solution to the water crisis in areas with limited access to drinking water. Indeed, the "Kullup" cannot fill up correctly without rain. They dry out about ten days after the last rains and remain dry for almost nine months. To find water, young girls, women, and children, sometimes under five, will have to walk even further and longer.
Our two organizations work with local communities to implement longer-term solutions, such as constructing water supply networks using deep boreholes and sealed and healthy rainwater cisterns. The Water Connections program offers innovative and sustainable solutions. It includes promoting water conservation practices with "Kawan Sehat" and self-sustaining access to Primary Medical Care through the PMC program.
Thank you for your interest and support, we love you.