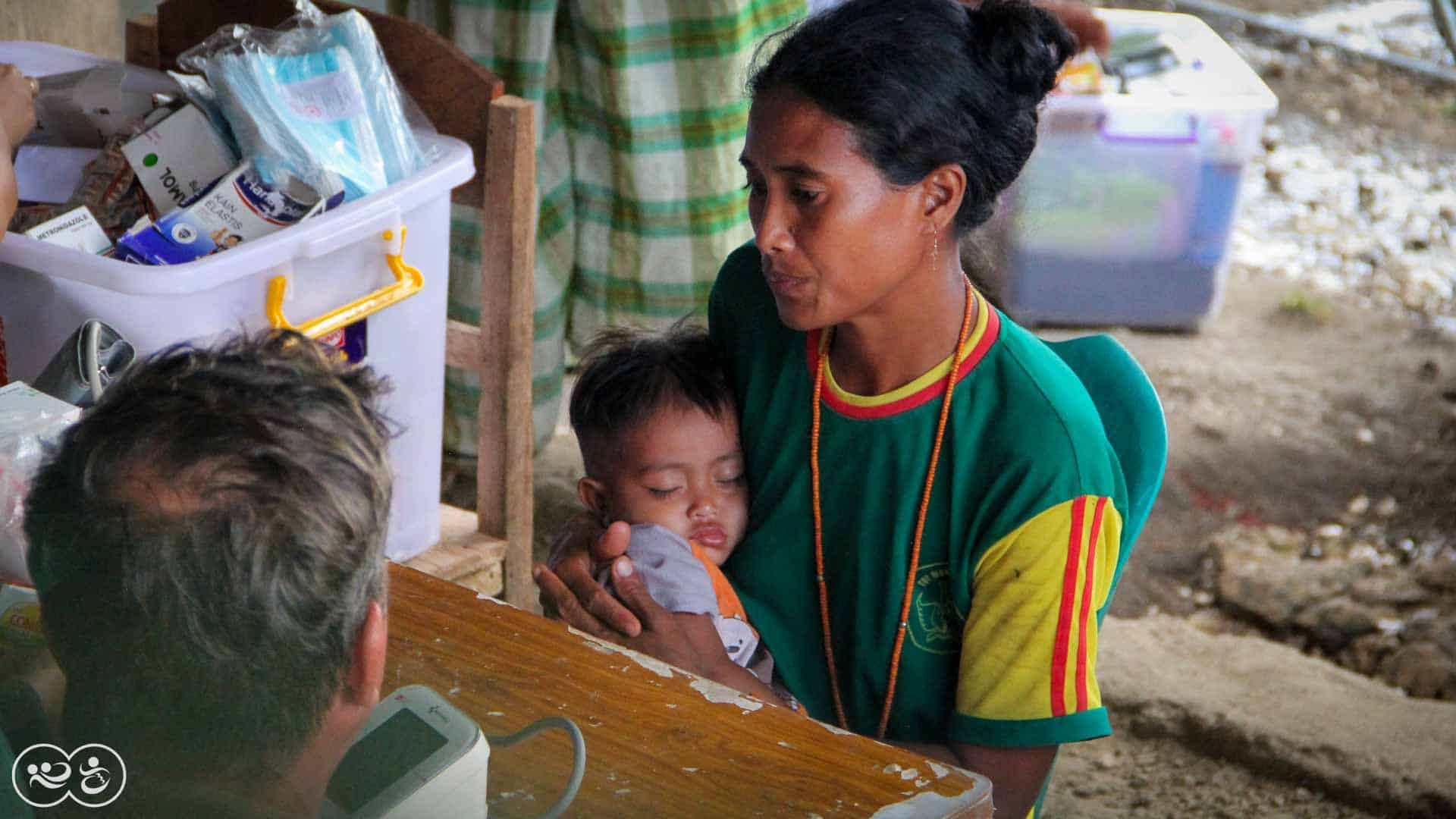 What this image is about Kawan?
This new "Picture of the Day" shows you a brave but sad mom who asks for care for her little boy. She is a courageous but sad mother who seeks care for her little boy, who suffers from Malaria. With pain and more than 40 fever, He is the example of the "typical patient" here: Under five years old, this family lives in an ultra-rural and marginalized area. She is poor, and they don't have access to medical care or enough food and clean water; They don't have toilets either. Moreover, the whole village does not have access to electricity.
The medical staff of Kawan Baik and Fair Future Foundation bring him relief and medicine to lower his fever and get better as soon as possible. We also talk to the mother and give her good advice.
Let me re-explain to you what malaria is and why this disease is hazardous, and the categories of people it affects in the first place:
Malaria is caused by parasites transmitted by the bites of infected mosquitoes. Although anyone can get malaria, specific categories of people are more susceptible to severe illness and complications. We find that the impact of malaria varies by geographic region and local health infrastructure. Our efforts to fight malaria focus on prevention through measures such as the establishment of the Primary Medical Care Program (PMC), mosquito nets, spraying in villages (fogging), and learning to wash with an "ani-malaria or disinfectant" soap, among others.
1. First, children under five: This is because young children have a weaker immune system and have not yet developed immunity to disease. They are more likely to have serious symptoms and complications, including severe anemia and cerebral malaria, which can be life-threatening. This is the case here: Infant mortality is very high in ultra-rural areas and marginalized populations of East Sumba.
2. But also pregnant women: Of course, malaria can have adverse effects on both the mother and the unborn child. Pregnant women are at an increased risk of developing severe malaria, leading to complications such as maternal anemia, spontaneous abortion, stillbirth, or low birth weight infants. I spoke to you about a similar case in Kabanda, right?
Public health interventions to provide vital advice to the most affected populations via the #kawansehat program are essential. You have to be close to people if you want to advise them on the best way to have a healthier life.
3. Ultra-rural and marginalized populations: Communities living in rural and remote areas, often with limited access to health care, such as here in East Sumba, are disproportionately affected by malaria. Factors such as poverty, lack of knowledge about preventive measures and limited access to health services contribute to malaria's higher prevalence and impact in these communities.
4. Immunocompromised people: People with weakened immune systems, such as those living with HIV/AIDS, are more likely to contract severe malaria. We are also talking about people with chronic illnesses. Malaria can also aggravate the progression of HIV infection. And concerning the rate of HIV-positive people here is also very high, even with very few tests being conducted.
Thank you for your interest and support, we love you.