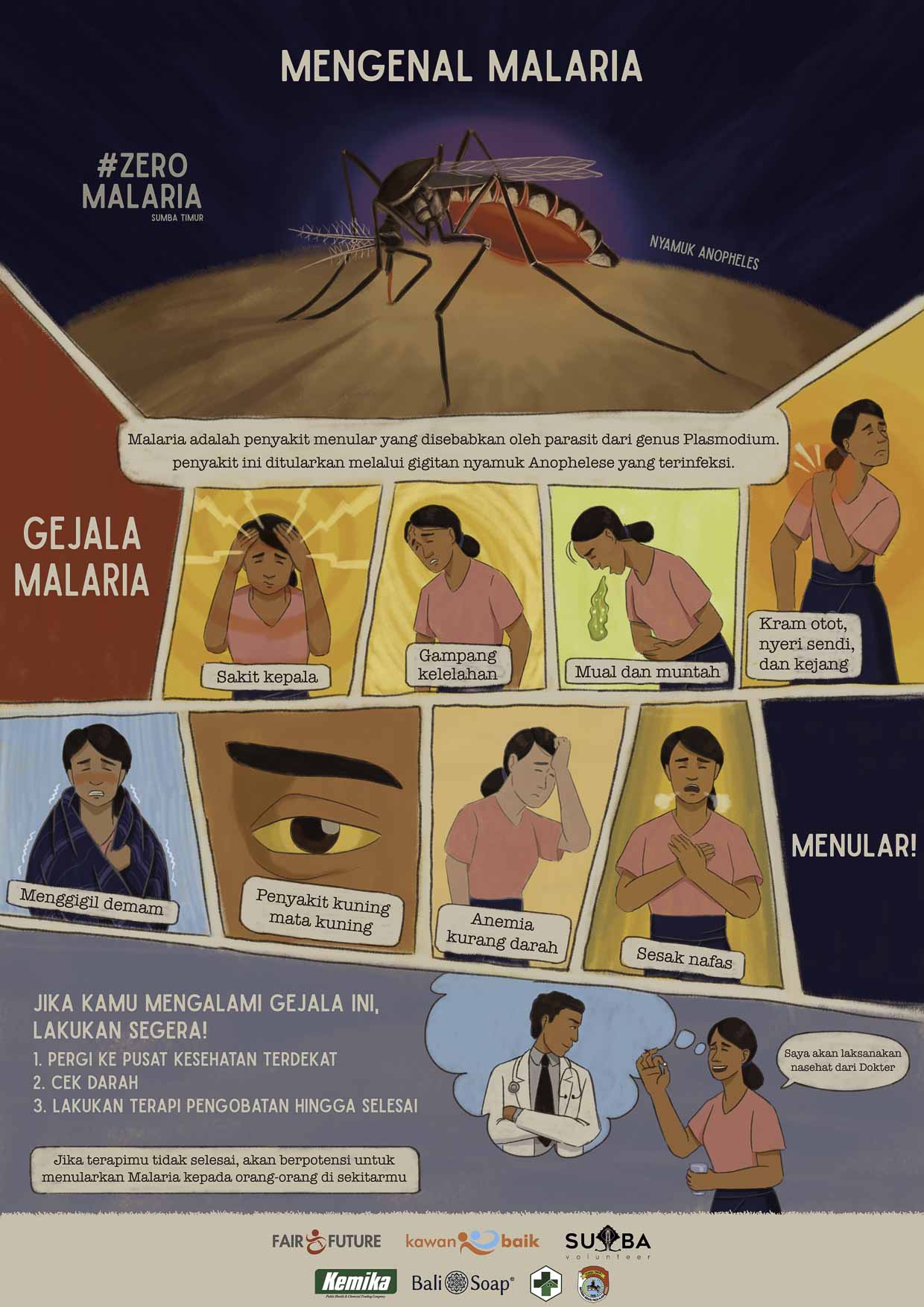 What this image is about Kawan?
This "New Pictures of the Day" features a crucial tool in our battle against malaria in East Sumba: Two educational posters. Printed on durable laminated canvas, the poster is used by our field teams as they venture into the most remote areas. The photo showcases how this visual aid becomes the focal point during our community educational sessions. When families gather around this poster, it transforms into more than just printed material; it becomes a platform for life-saving dialogue. It educates on identifying early malaria symptoms, understanding its transmission, and adopting preventive measures. This active engagement is vital in our holistic strategy to combat malaria and other infectious diseases.
An Essential Poster for Combating the Scourge of Malaria in East Sumba: In the ultra-rural regions of East Sumba, Indonesia, malaria isn't just a word on a piece of paper or a statistic on a screen; it's a deadly scourge that threatens the lives of our communities every single day. That's why Fair Future Foundation, in close collaboration with Kawan Baik, Sumba Volunteer, and local authorities, deploys field teams that do more than deliver medical care. They engage in a vital mission of detection and prevention, going door-to-door to educate families about the dangers of this devastating disease.
A Moment of Sharing and Education: We do not come empty-handed when we enter families' homes in these isolated regions. In addition to our medical expertise, we bring a simple but powerful tool: a poster. This poster, printed on laminated canvas and distributed in dozens of copies, is an educational aid for our discussions. It highlights the essential preventive measures each family must take to protect themselves from malaria. The goal is not only to treat but to prevent the disease from taking hold in the first place.
More Than Just a Piece of Paper: This poster is not merely a piece of paper. It is a fundamental element of our comprehensive strategy for preventing infectious diseases. Families gather around it, listen attentively, and ask questions. They learn to recognize the symptoms of malaria, understand the parasite's life cycle that causes it, and, most importantly, take steps to minimize the risks of infection. In doing so, they become recipients of medical care and active participants in their well-being and community.
Education and Prevention: The Pillars of Long-Term Well-being: Our fifteen years of on-the-ground experience confirm that training, prevention, and education are the pillars of long-term health. And this isn't only true for malaria. The same principles apply to other deadly diseases that afflict our communities, such as AIDS, hepatitis, tuberculosis, cholera, and polio. That's why, as we approach the end of 2023, we particularly emphasize these aspects.
Conclusion: In this critical time, posters have become more than a prevention tool; it is a lifebuoy in an ocean of medical challenges. It embodies our commitment to equipping families with the necessary knowledge to combat malaria and other devastating diseases. Because in the war against these scourges, information is our most powerful ally. And every life saved is a victory for that family and the entire community.
Download the posters. PDF here: Action and Prevention poster – Disease and Symptoms Poster.
Thank you very much for your support.
Alex Wettstein – Fair Future Foundation medico-social camp in East Sumba – Rumah Kambera, Lambanapu, 12th of October, 2023.
Thank you for your interest and support, we love you.
​