HERE IS A MAP DEPICTING THE EXTENT OF MALARIA'S EFFECT ON EAST SUMBA.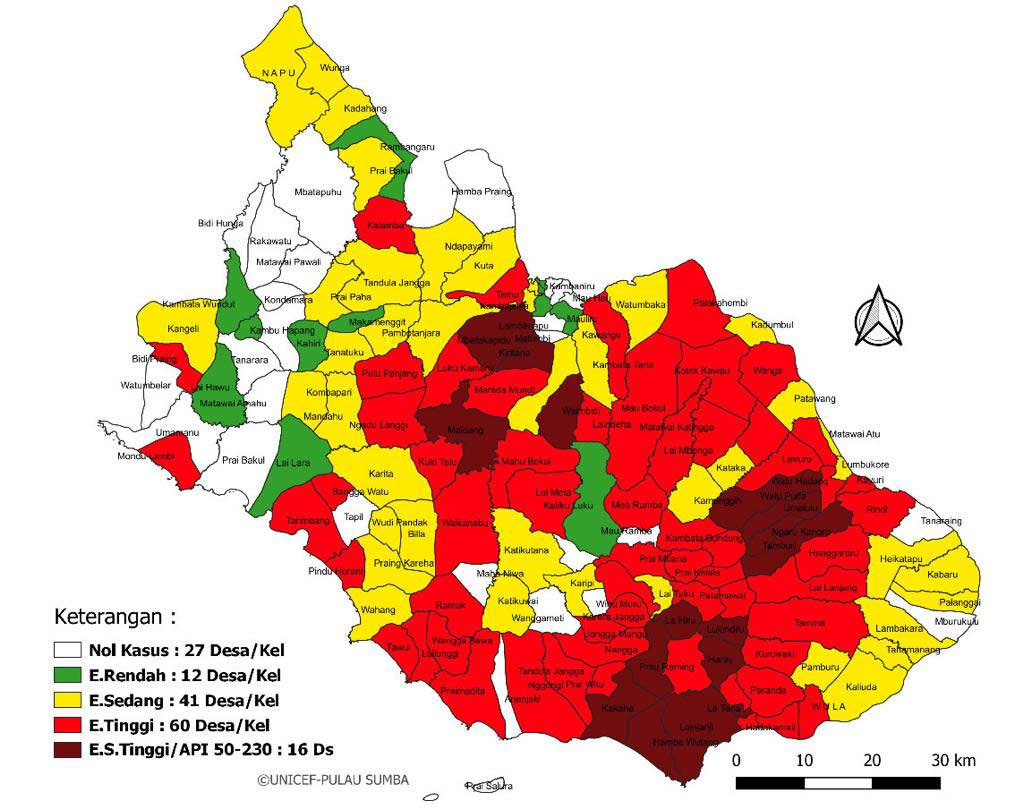 Malaria has become endemic in this area, establishing itself and finding a conducive environment for its spread, leading to an unprecedented increase in cases in recent months.
Fair Future Foundation, Kawan Baik Indonesia, and Sumba Volunteer are joining forces to launch a crucial health and medical operation to combat malaria in the Mahu region of East Sumba, Indonesia.
The Mahu region faces serious challenges that promote the spread of malaria, such as malnutrition, extreme poverty, and lack of access to electricity, roads, clean water, and sanitation facilities. Unfortunately, in recent months, we have observed an alarming increase in malaria cases, putting the health of thousands of families at risk.
This initiative is a crucial component of our ongoing commitment to improve access to primary healthcare in the most remote regions. Thanks to the Primary Medical Care (PMC) program – Access to Primary Medical Care in Ultra-Rural Areas – many lives have been saved this year.
This is one of the most significant urgent health and medical operations organized and funded by the Swiss Fair Future Foundation.
This Malaria Prevention Initiative Sumba 2023, integrated into the PMC program, will begin in late June 2023 and conclude at the end of July 2023 with the first phase. An investment of over CHF 100,000 has been allocated to the PMC program, of which CHF 37,550 is specifically designated for this malaria prevention initiative. Over 150 people, including over a hundred volunteers, doctors, nurses, and laboratory technicians, will be mobilized for this operation. Two trucks and several tons of medical equipment will be deployed.
Using the "door-to-door" method, over 3,000 blood and 4,000 rapid tests will be conducted directly at the residents' homes. This enables the distribution of insecticide-treated mosquito nets, indoor residual spraying (IRS) of insecticides, and specific medical treatments for those affected. We will also broadcast radio spots and display giant posters to raise awareness about malaria prevention.
In parallel, we will improve the Mahu medical centre, which currently lacks access to water, by repairing the deep well and installing a new pump and reservoirs. This medical centre (Puskesmas) will also serve as a decentralized base camp for the operation.
Furthermore, we have developed a personalized screening application called "Malaria Sumba", which will allow our teams in the field to collect important medical and social data for mapping and monitoring purposes.
Fair Future sincerely thanks our friends at Sumba Volunteer and our sister foundation, Kawan Baik Indonesia, for their valuable practical and logistical contributions to this project. We encourage everyone who wishes to support this initiative to spread the word and financially donate on behalf of the Swiss Foundation.
INFO: We still need CHF 7,500.- to reach our goal and complete the medical operation for everyone. Indeed, we were too optimistic in our forecasts because more equipment to perform the thousands of blood and rapid tests is needed.
Fair Future, along with all our staff, volunteers, and partners, would like to express sincere gratitude to all those who join us in this vital cause. Your support and commitment make a tangible difference in communities affected by malaria in Sumba.
We understand the importance of your contribution, whether through a donation, sharing our initiative, or raising awareness about this cause. Every gesture matters, and we are deeply grateful to those who stand with us in the fight against malaria and improving the health of thousands of families.
For more details about our initiative or to donate, please get in touch with Fair Future. We will be delighted to provide all the necessary information and assist you in supporting this vital cause.
Thank you for your continued support and commitment to malaria prevention in the areas where we are involved.
UPDATE: Our operation is going smoothly, and we have already ordered equipment for more than ten thousand francs, including impregnated mosquito nets, insecticide spraying equipment (IRS), rapid tests, blood collection reagents, specific drugs, submersible pumps, cleaning tools and dirty water treatment products, a power unit and solar panels, two microscopes etc…
Two trucks carrying tons of materials will arrive at our Sumba base camp on June 22, ensuring that all items needed for malaria prevention and patient care will be available on time. We will keep you informed of the operation's progress and the results we obtain.