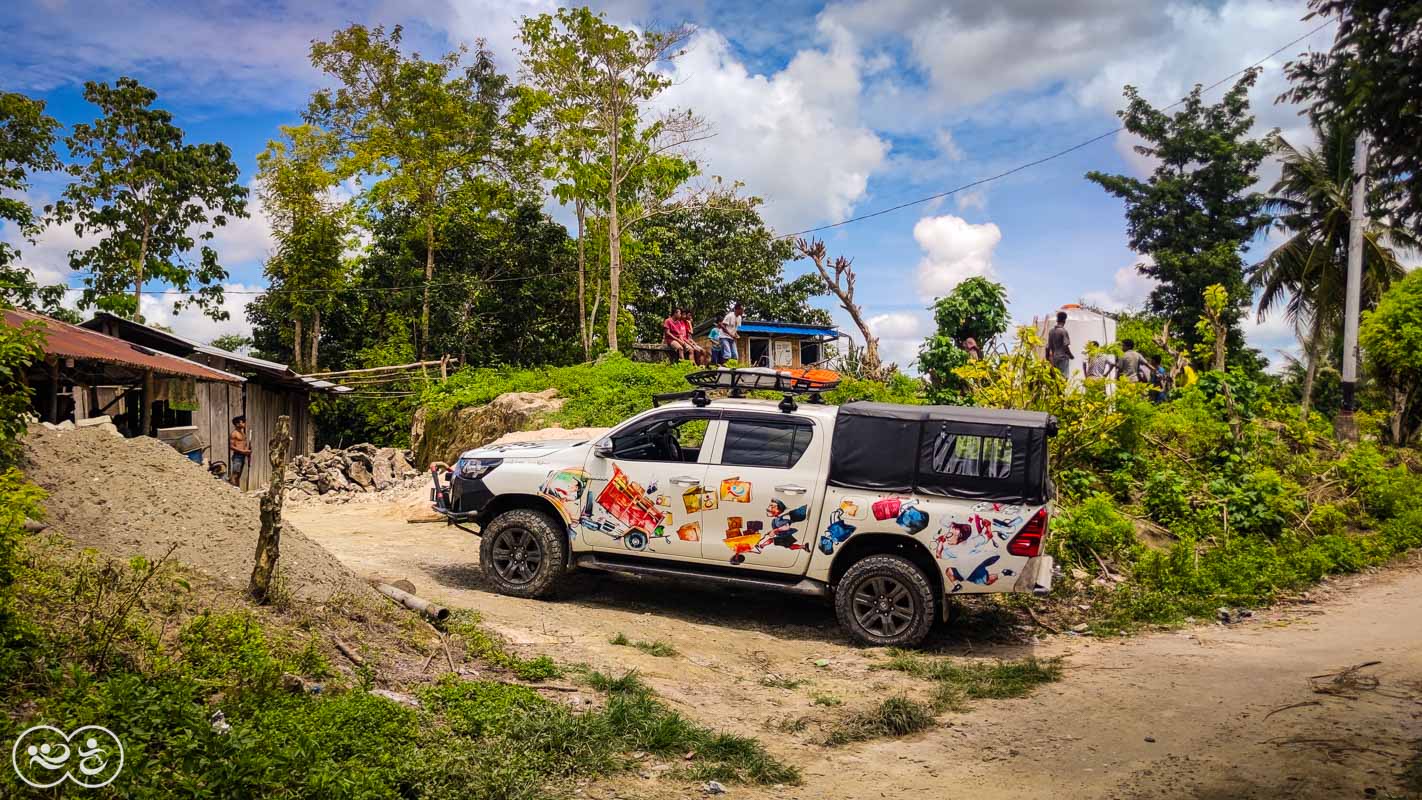 What this image is about Kawan?
This new "Picture of the Day" shows you the "Truck of Life", driven by Alex, the founder of Fair Future Foundation, which is active in the field almost permanently. In this image, we visit the Water Connections program sites in East Sumba, Mbinudita village. This is to realize the importance of having clean water and sanitation facilities in families. Indeed, it is in these villages that from now on, the "Truck of Life" gives a minimum of medical care because people are in much better health. Water is the cheapest and most effective medicine.
The "Truck of Life" is a unique and innovative Fair Future initiative. This vehicle provides medical care to the ultra-rural areas of Sumba; it saves lives and allows you to go anywhere where almost no one ever goes. With the help of this truck, medical teams can travel to remote areas and provide health services to those who otherwise would not have access; it is also used to bring medical equipment to participants in the PMC program (Primary Medical Care Program). One of the key benefits of the Truck of Life is that it can reach people in remote areas who would not otherwise have access to healthcare services. The team on board the truck can provide a wide range of services, including primary medical check-ups, vaccinations, maternal and child health services, and treatment for common illnesses.
The Truck of Life is an innovative approach to addressing the healthcare challenges faced by people living in remote and rural areas of Indonesia. By bringing medical care and health education to these communities, the Fair Future Foundation is helping to improve the health and wellbeing of some of the most vulnerable people in the country. It represents the foundation of what it wants to be on a daily basis: Close to people in rural areas.
To ensure the "Truck of Life" successfully reaches those in need, working closely with the local community and building a solid relationship with them is essential. This is achieved by engaging with community actors and local health workers and conducting outreach programs in the villages where Fair Future and Kawan Baik work so hard to educate people on the importance of health care. In addition to providing health services, the Truck of Life also promotes health education and awareness in its communities. This is achieved through community outreach programs, where medical professionals engage with local people and provide them with information on staying healthy and preventing disease.
Another essential aspect to consider is the sustainability of the program. The "Truck of Life" is designed to operate efficiently and profitably over the long term, with a plan for maintenance, repairs and replenishment of medical supplies. The "Truck of Life" is a valuable initiative that significantly changes people's lives in Sumba's ultra-rural areas. With careful planning, collaboration with local communities and a commitment to sustainability, it has the potential to bring essential health services to those who need them most in the following years.
Thank you for your interest and support, we love you.