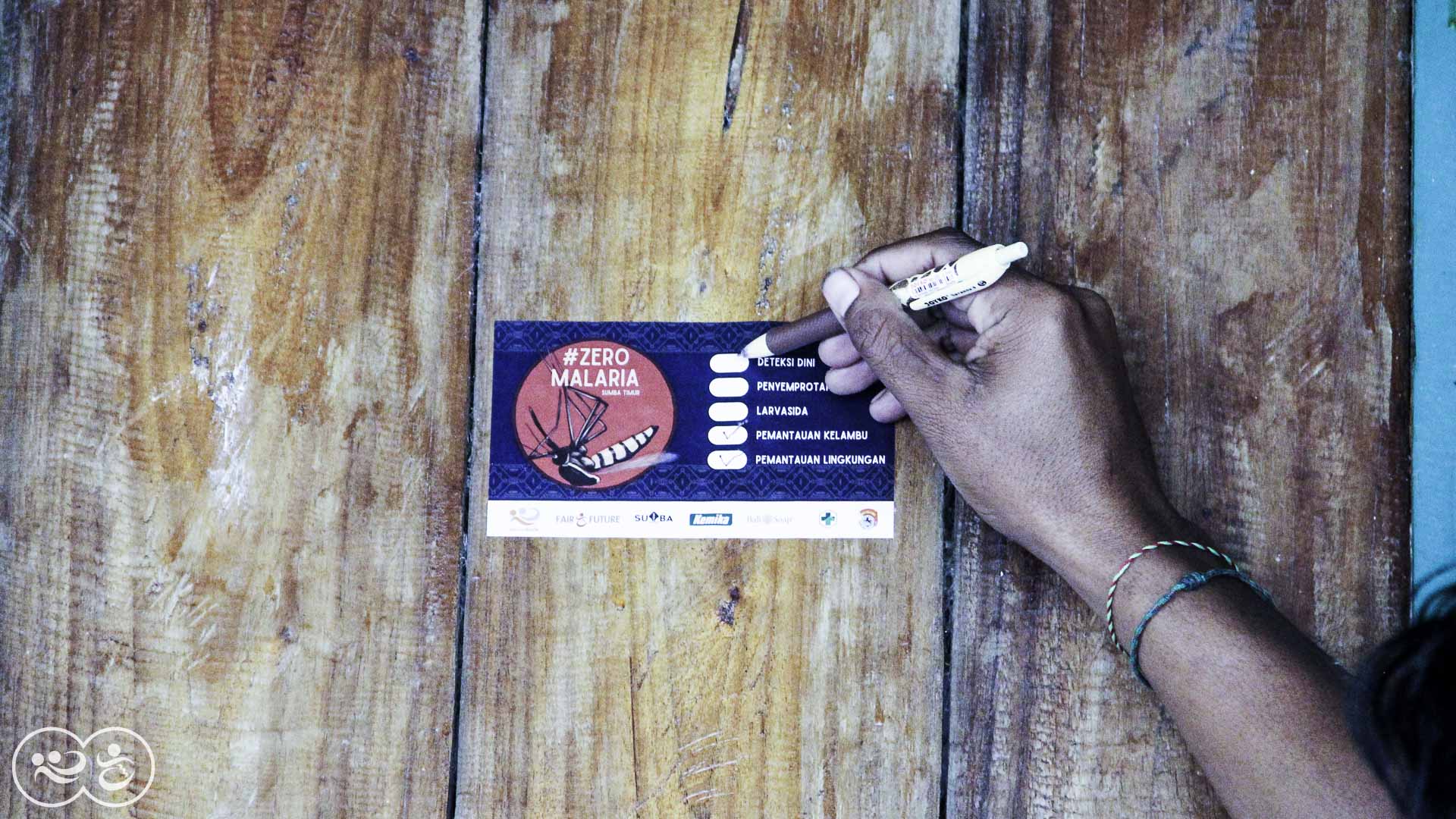 What this image is about Kawan?
This New "Picture of the Day" highlights much more than a simple sticker; it reveals a crucial component of our ongoing fight against malaria. Within Fair Future's #ZeroMalaria program, our social and medical teams dedicate their expertise and energy to affixing these stickers to the walls of homes in the villages and regions of East Sumba where we work. These stickers are not just markers but vital indicators in our overall approach to protecting and educating the most vulnerable communities.
In the remote villages of East Sumba, Indonesia, a simple sticker can mean the difference between life and death. As part of Fair Future's Zero Malaria program, these stickers are affixed to the walls of homes, serving as a visual indicator of our comprehensive approach to malaria control.
In the battle against malaria, we don't overlook any details. From microscopic examinations to stickers on walls, every action is a step towards a malaria-free future. These stickers are not just adhesives; they are badges of education, prevention, and hope.
Family Member Detection: Early diagnosis is crucial in regions like East Sumba, where malaria is rampant. Our teams employ optical microscopic examinations to visualize plasmodia in patients' thick or thin blood smears. We also utilize Rapid Diagnostic Tests for Malaria (TDR).
Indoor Residual Spraying (PID): We conduct Indoor Residual Spraying (PID) in every home across the villages. This involves the regular application of long-lasting chemical insecticides on the inner walls of houses. The insecticide remains effective for several months, killing mosquitoes that come into contact with it.
Larvicides: Regular application of microbial or chemical insecticides to water bodies or reservoirs is another crucial aspect. The goal is to reduce the adult mosquito population by killing the immature aquatic forms, thereby limiting their development into adults.
Bed Nets: The distribution of insecticide-treated bed nets (MII) is essential in our fight against malaria. These nets have proven highly effective in reducing malaria-related deaths and illnesses.
Environmental Surveillance: We also pay close attention to the living conditions in these areas. Factors like inadequate sanitation facilities, unsanitary conditions, stagnant water, and areas where animals like pigs and water buffaloes are kept can significantly contribute to mosquito proliferation.
This is why the sticker takes on such importance. It informs villagers whether a particular home has been treated, whether its inhabitants have undergone screening, and whether they have been educated on protecting themselves from the disease.
Thank you very much for your support.
Alex Wettstein – Fair Future Foundation medico-social camp in East Sumba – Rumah Kambera, Lambanapu, 5th of October, 2023.
Thank you for your interest and support, we love you.