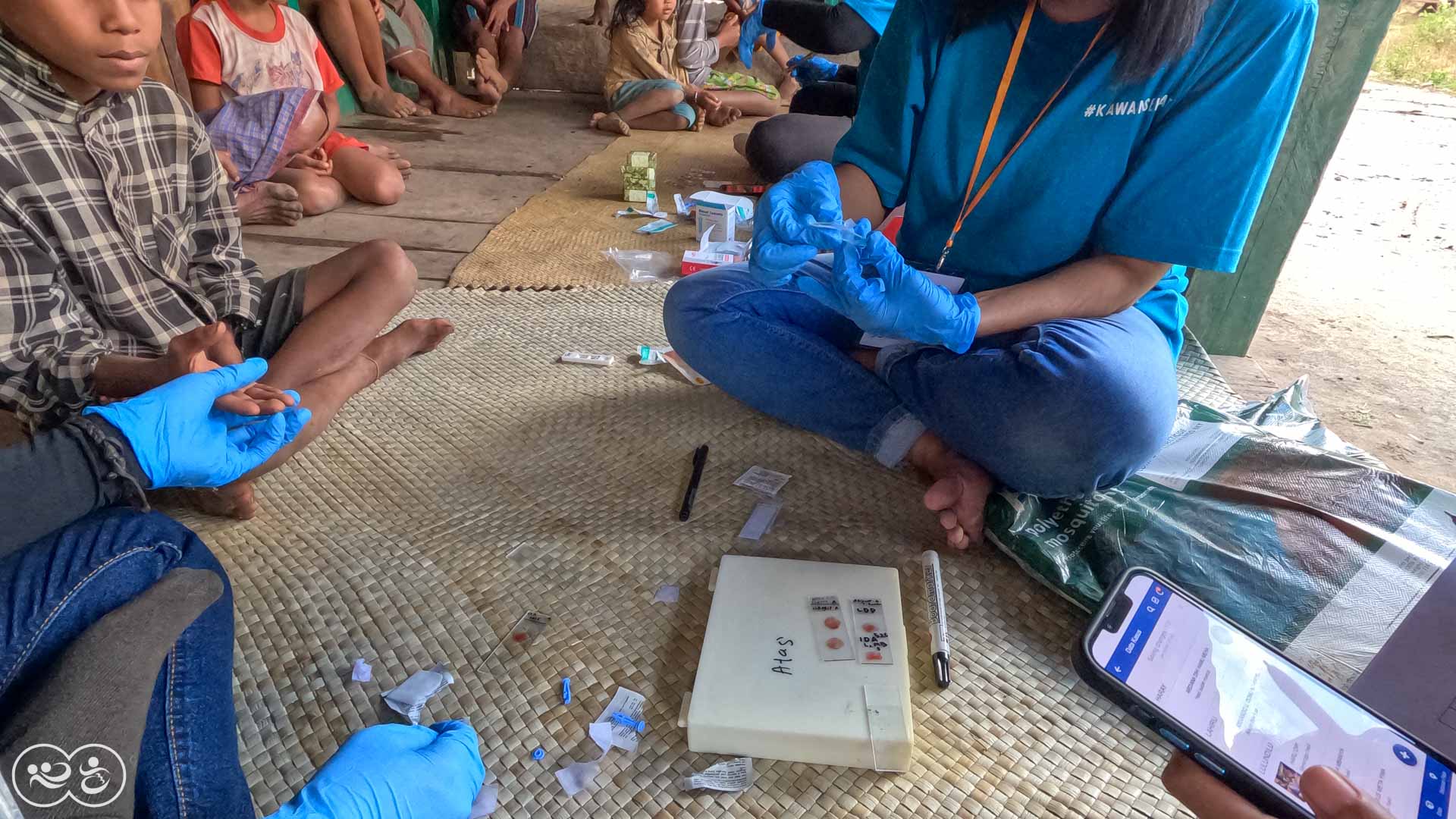 What this image is about Kawan?
Championing the #ZeroMalaria Cause: Fair Future's Tireless Efforts in Sumba East. This image reflects our unwavering commitment to the #ZeroMalaria cause. Together, we're illuminating a path to a malaria-free future. Each test, done twice for accuracy, symbolizes hope in the fight against malaria. Our teams also collect essential socio-medical data to track progress.
In the heart of one of Indonesia's poorest and most disadvantaged regions, as well as one of the highest malaria prevalence areas in the world, Fair Future, in collaboration with Kawan Baik and Sumba Volunteer, is waging an unrelenting battle against the deadly scourge of malaria. Under the banner of #ZeroMalaria, this vital campaign is not just about medical intervention; it's about transforming lives and ensuring every community member has a chance at a healthier future.
The Challenge of Malaria in Sumba East: Sumba East is a region where basic amenities like electricity, clean water, and sanitation facilities are virtually non-existent. Here, people face a daily struggle for survival against malaria and various other infectious diseases. Malaria, in particular, poses a significant threat to the lives of the local population.
Malaria is transmitted through the bite of infected female Anopheles mosquitoes and can have devastating consequences if left untreated. The disease can rapidly progress from fever and chills to severe anemia, organ failure, and even death. Vulnerable groups, such as pregnant women and children, are at higher risk.
Fair Future's Double-Testing Approach: Precision is paramount in the battle against malaria. Fair Future's dedicated medical teams, including doctors, nurses, and laboratory technicians, work tirelessly to ensure that every case is accurately diagnosed and treated.
Our teams conduct tens of thousands of malaria tests, and each test is done twice. Once using rapid diagnostic tests and another through blood tests analyzed using microscopes, all performed directly in the field. This rigorous double-testing approach ensures the highest accuracy, especially in an area where access to modern medical facilities is severely limited.
Collecting Socio-Medical Data: Beyond diagnosis and treatment, Fair Future recognizes the importance of comprehensive data collection to guide its efforts. The captivating photo accompanying this article shows our teams diligently gathering socio-medical data from every family member and villager. This data is entered into Fair Future's proprietary application, meticulously developed and funded by the organization. The application is a crucial tool for tracking and tracing the regions where we implement the #ZeroMalaria program.
The Urgent Need for #ZeroMalaria: It's important to remember that malaria remains a significant threat in regions like Sumba East, where people continue to lose their lives to this preventable and treatable disease. Pregnant women and children are particularly vulnerable.
The #ZeroMalaria program represents a lifeline for these communities, providing medical care, education, and awareness about malaria prevention. Fair Future is committed to ensuring that no one in Sumba East loses their life to malaria, and your support is instrumental in achieving this goal.
In closing, the battle against malaria in East Sumba is ongoing, and the stakes couldn't be higher. Through #ZeroMalaria, Fair Future is determined to change the narrative, transform these communities, and save lives. Join us in this life-saving mission!
Thank you very much for your support.
Alex Wettstein – Fair Future Foundation medico-social camp in East Sumba – Rumah Kambera, Lambanapu,
September 21st, 2023.
Thank you for your interest and support, we love you.