Primary Medical Care In Rural Areas
Offer To Communities Living In Rural Areas The Access To Primary Healthcare
Rurals Area of Sumba
Access
East Sumba has a population of over 255,000 people, spread over an area of 7,000 km2. Therefore, the population density is 36 people per km2 (source: BPS East Sumba 2017). The hilly terrain of Sumba is an obstacle in several areas, including access to healthcare.
Indeed, roads are made of rocky and dangerous paths, hardly practicable whether by car, motorbike, or ambulance.
Infrastructure
Some districts have a health center, commonly named Puskesmas, which can be open in the morning and who provides basic health care,
Water and sanitation
In this part of Indonesia, access to water is not an acquired right. Families have to walk several kilometres to access a well or a water source.
The majority of health centres also do not have direct access to water.
Knowledge
During our field missions, we meet many children, adolescents and adults injured, especially on the feet and legs. Children have to walk many kilometers to get to school, on these dangerous paths, and even cross rivers, some of them barefoot; therefore, they are the most affected by these injuries.
These are left untreated; they do not have access to medical care or the most basic knowledge, such as disinfecting or bandaging a wound. From then on, these wounds become infected, and fatalities can result from a minor injury.
This is also closely linked to lack of hygiene, lack of access to water, lack of medical knowledge and resources.
Prevention and hygiene
Basic health starts with prevention and knowledge about primary care and how to prevent sickness and infections through good hygiene and change of habits. This knowledge is lacking in rural areas of Sumba.
Water connection program
See the full proposal here
Without water, implementing such a program would not be efficient. Good hygiene, treatment of injuries, drinking and eating nutritious food depends on water access first.
This is why we focused on giving access to water to the community before starting the implementation of the healthcare program.
Project
Training
Faced with the lack of access and training in primary medical care, the foundation decided to implement simple, and effective measures; training of teachers, collaboration with the official services, using a first aid pharmacy and the prevention of diseases, infections etc.
The most important part of this program is the skills training; the implementation of a teaching module based on a guidebook that we will develop about first aid and prevention.
In complement this module, we will develop one illustrated book for the children as a support document to pass on the knowledge and prevention.
These pharmacies are made available to schools and, indirectly, to villages in these rural regions. We chose to train the teachers first; indeed, they will be the ones who will spread the knowledge in their respective villages.
Rumah Kambera HUB
Rumah Kambera is the hub of activity for Fair Future and Kawan Baik in eastern Indonesia. The monitoring of activities, the resupply of pharmacies and part of the continuing training will be carried out from there, among other related activities to the medical care project for the populations of the outermost regions.
Thanks to this base camp, the foundation ensures the follow-up, the resupply and the training of the young local volunteers and teachers acting as agents of change in these communities.
Where there is no doctor
The Foundation will create a training module and an illustrated book based on the famous "Where there is no Doctor" by David Wegner. It will serve as a reference book and include all the information on prevention, patient care, and first aid care focusing on children's care and prevention.
In addition to this, the book will also cover knowledge about traditional medical treatments and the use of local natural resources.
Pharmacies
Various bandages
Sterile gauzes
Pins
Triangular Mitela © cloths Latex gloves
Masks
Pliers Medical scissors
Thermometer Disinfectant Povidone-Iodine Solution
Disinfectant cloths
Betadine © spray / Antiseptic solution
Antibiotic lotion – Gentamycin ©
Bandages for wounds
Hypo-allergenic adhesive tape
Cough and flu medicines
Antihistamines for insect bites or allergies
Analgesic: Paracetamol or Ibuprofen 125 mg + 250 mg Other easy-to-use drugs such as …
Ph-Neutral eye drops, Visine ©; and antibiotic eye drops, Cendo © Xitrol © / Erlamyticin © ("generic" drugs)
Caviplex © – Vitamins for children and adults Imboost © – Supplement aimed at strengthening immunity. Can be used to treat malaria or dengue fever Anti-diarrheal drugs Medicines to treat ticks, fleas and other parasites Ointments for burns
Beneficiaries
The project's beneficiaries are the communities of people living in the rural and peripheral regions of the territories of eastern Indonesia (NTT – Nusa Tenggara Timur).
These rural communities include the following population groups:
Children of school age, 5 to 15 years old. Children from low social backgrounds, who do not have access to primary medical care, water or electricity;
Teachers from rural schools, themselves from the same villages in which they teach;
The villagers and local communities living in rural areas who will themselves benefit from this project and therefore their relatives;
The health affairs and social departments with whom we are collaborating on this project.
Location
The program takes place in the region of East Sumba, East Nusa Tenggara, Indonesia. In collaboration with 25 schools, spread over 8 districts.
Partners
Fair Future Foundation
Kawan Baik Indonesia
Charis Sumba Foundation
Puskesmas (Public medical centers)
Traditional doctors
Dinas Sosial (Social department)
Dinas Kesehatan (Department of Public Health)
We believe that NGO's role is to create a link between the government and the beneficiary communities. For this reason, we aim to have the closest possible collaboration with the regional governments of the areas in which we operate.
Therefore, this project is supported by the Social Department (Dinas Sosial), the Medical Department (Dinas Kesehatan). They will support this project to the maximum of their capacity and ensure smooth running and monitoring over the long term, i.e. one year to start.
Results & Impact
+/- 80 first aid pharmacies in more than 25 schools, families and villages of Sumba East;
Creation of a teaching module about primary care, traditional knowledge and prevention that will be also used in other phases in the future;
Improved first aid knowledge through days of exercise and training for teachers first, then in the next phase for medical staff, and volunteers;
Documentation of local knowledge on the use of local natural resources for traditional medical treatment;
Creation of an illustrated book for the children focused on the prevention of sickness and injuries.
Access to knowledge and skills for communities on first respond to injuries and treatment of injuries and illnesses, before receiving professional treatment;
Reduce the health risks associated with the lack of medical treatment, prevent dangerous infections and other health problems.
Surveillance & Monitoring
It is vital for the success of this project to have the most effective monitoring and evaluation possible. Due to our many partners and team on-site and the implementation of several means of verification in the short and long term, we ensure this program's smooth running in the months and years and until its final operation phase.
Our foundation is involved in the field in terms of human resources and direct communication with the communities. But also, with the effective communication and support of various government departments, volunteer networks, health centers and schools. It is also easy for us to ensure effective follow-up from our base camp, Rumah Kambera HUB.
Our program also includes several phases of evaluation. We have separated the teaching modules to take the time to adapt and make changes or improvements – if necessary – throughout the implementation process.
Measures
Set up a measurement method (pre-test and post-test) on first aid so that all training participants know the result of the training;
Documentation of the distribution of first aid pharmacies, with photo verification, which will be placed in all participating schools and health centres;
Monitoring every 3 months through communication and supervision of change in the behaviour and the availability of first aid pharmacies in each school and health centre.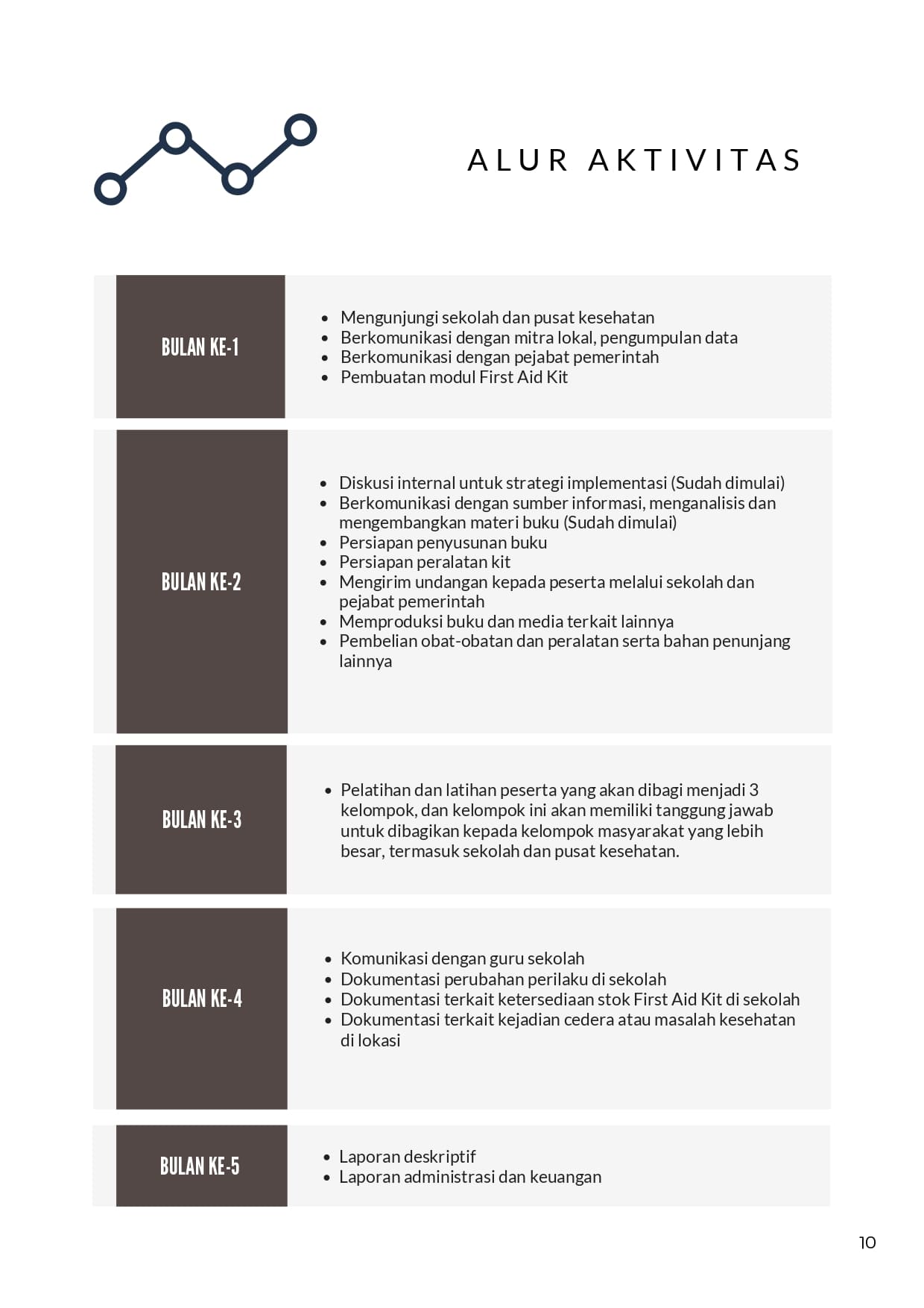 Project Cost
| | | |
| --- | --- | --- |
| Description | | Amount |
| Distribution of knowledge about health-related to clean water and healthy sanitation and firsthand treatment for health problems, small injuries and accidents | : | Rp 192,580,000.00 |
| Provision and distribution of first aid kits for Kampung schools and residents as the first treatment for health problems, small injuries and accidents | : | IDR 83.850.000 |
| Monitoring, Evaluation and reporting | : | IDR 44,205,000 |
| Total | : | IDR 320,635,000 |